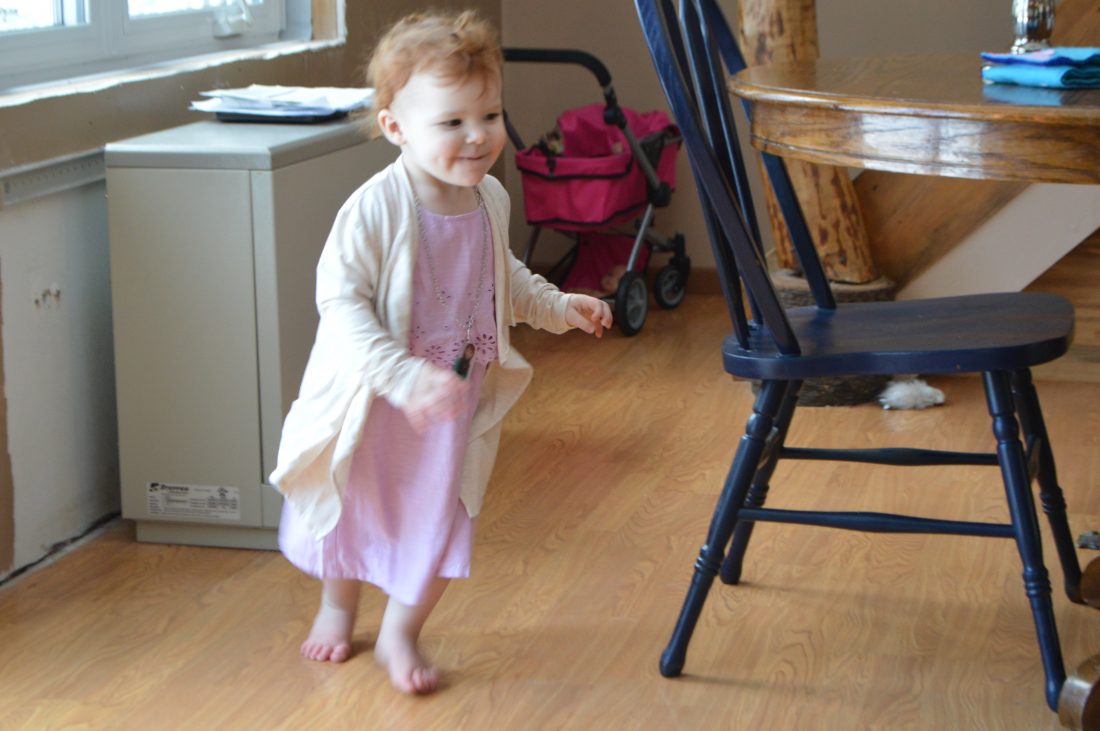 Peek into Toddler Girl's Capsule Wardrobe
You'll probably hear me say time and time again that "I don't like to have a lot of stuff", but as I admitted in my Easter Basket Gift Guide for Kids post, I have a little big problem when it comes to buying things for my daughter, Evelyn. Clothes, toys, books, I don't discriminate. In fact, I remember sitting in the hospital the night she was born. There was an episode of The Three Stooges playing on TV, Evelyn was sleeping soundly in her bassinet beside me, and Joe was snoring away on the little pullout chair that the hospital had given him. Me? I was staring lovingly at my three-hour-old baby girl, right? Well, not exactly. I was actually browsing Baby Gap on my phone! Yes, it's been a problem literally since Day 1. Though, to be fair, they did have a super cute Disney's Dumbo collection at the time…
Now, we didn't find out if we were having a boy or a girl, so maybe I could try and claim that I really did need to get some girly clothes for her, but let's be honest, here. I did it because I wanted to. And, as another mom I was talking to lately said, "It's so much cheaper to dress her in cute clothes than it is me!"
With another baby on the way, though, I've been seriously evaluating her clothing situation, and have decided that an entire dresser filled to the brim with 3T clothing is maybe a little, teeny bit excessive. Ideally, I'd like Evelyn to share the dresser in question with her little brother or sister 50/50, so we needed to scale back on the amount of clothing she has. It was time to implement the capsule wardrobe.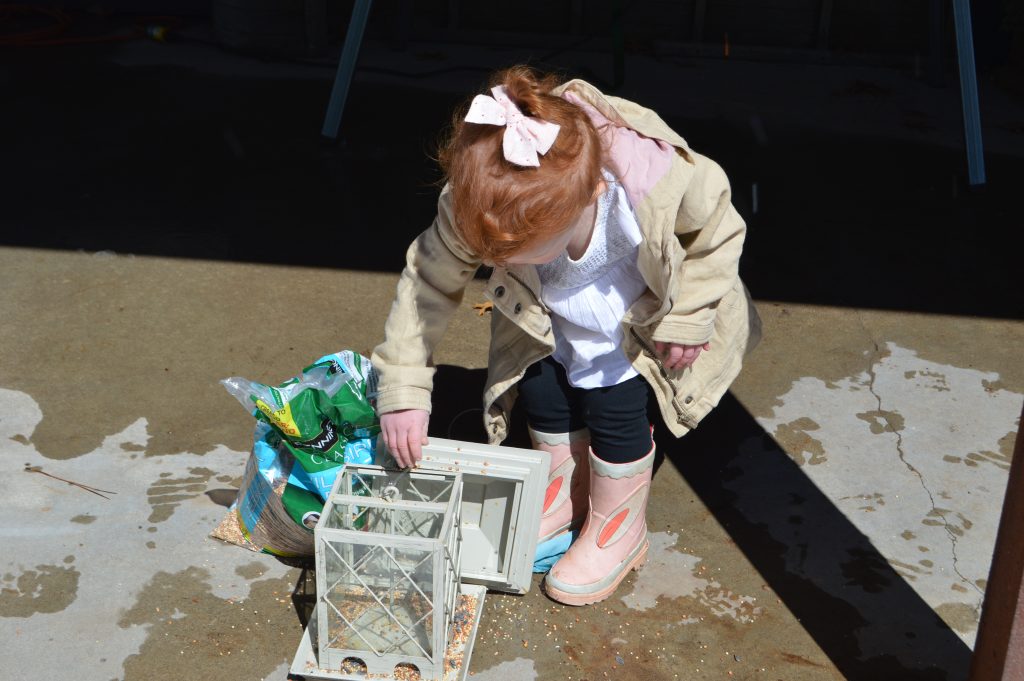 If you've never heard of a capsule wardrobe before, it's basically a small, cohesive wardrobe where everything pairs well together, and usually consists of around 30 pieces of clothing. I've done them for myself before, and always loved having them. You can essentially throw on anything and know that it will all look good together, and if you do it right, you'll feel fantastic in whatever outfit you put together, too!
This capsule is by no means complete at 16 items for a toddler, but it's a start, and I do already have a few items that I couldn't find online that work with her new wardrobe, as well as some handmade pieces that I didn't have a chance to take photos of. But, this lineup does give you an idea of what her wardrobe is looking like!
At least right now, Evelyn loves all things girly – she loves wearing jewelry, having her nails painted (both fingers and toes), and will play with my makeup brushes when I'm doing my makeup in the morning. Thankfully, at this point, she doesn't care if she has a lot of options in terms of clothing, so I'm *hoping* that I can instill this idea of a minimal wardrobe as a good idea early on. Plus, I think we're getting close to the "I can dress myself" stage, and if everything looks cute together, it won't matter if we have to go out in public!
Most of the pieces I picked out for her capsule are from Target, Old Navy, and good ol' Gap with the exception of her Easter Dress, which I picked up from Nordstrom. I've included the links to most of the pieces below.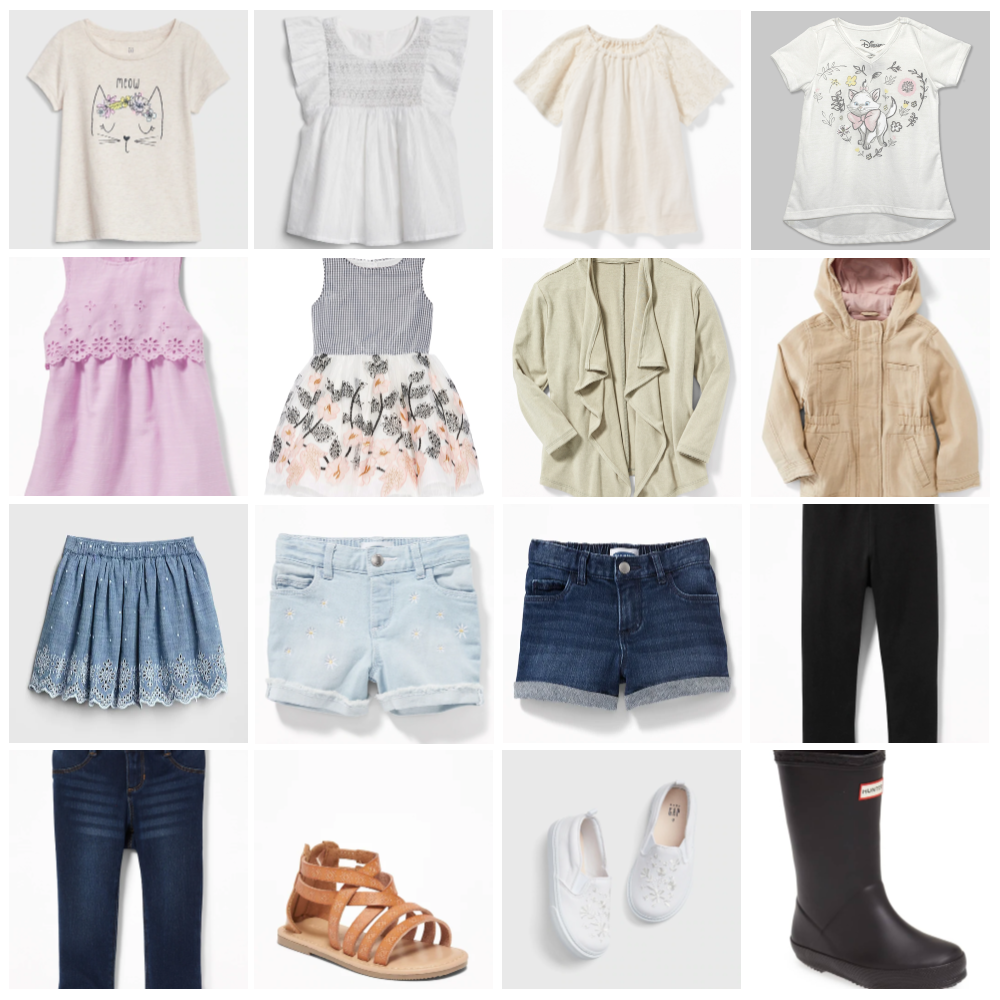 Graphic Short Sleeve T – Cat | Smocked Flutter Top | Slub-Knit Lace-Sleeve Top | Toddler Girls' Aristocats T Shirt
Tiered Eyelet Shift Dress | Gingham & Floral Embellished Dress | Open-Front Jersey Waterfall Cardi | Hooded Linen-Blend Twill Jacket
Chambray Eyelet Flippy Skirt |Cuffed Denim Cutoffs | Cuffed Denim Shorts | Black Leggings
Jeans |Faux Leather Gladiator Sandals | Embroidered Slip On Sneakers | First Classic Rain Boot