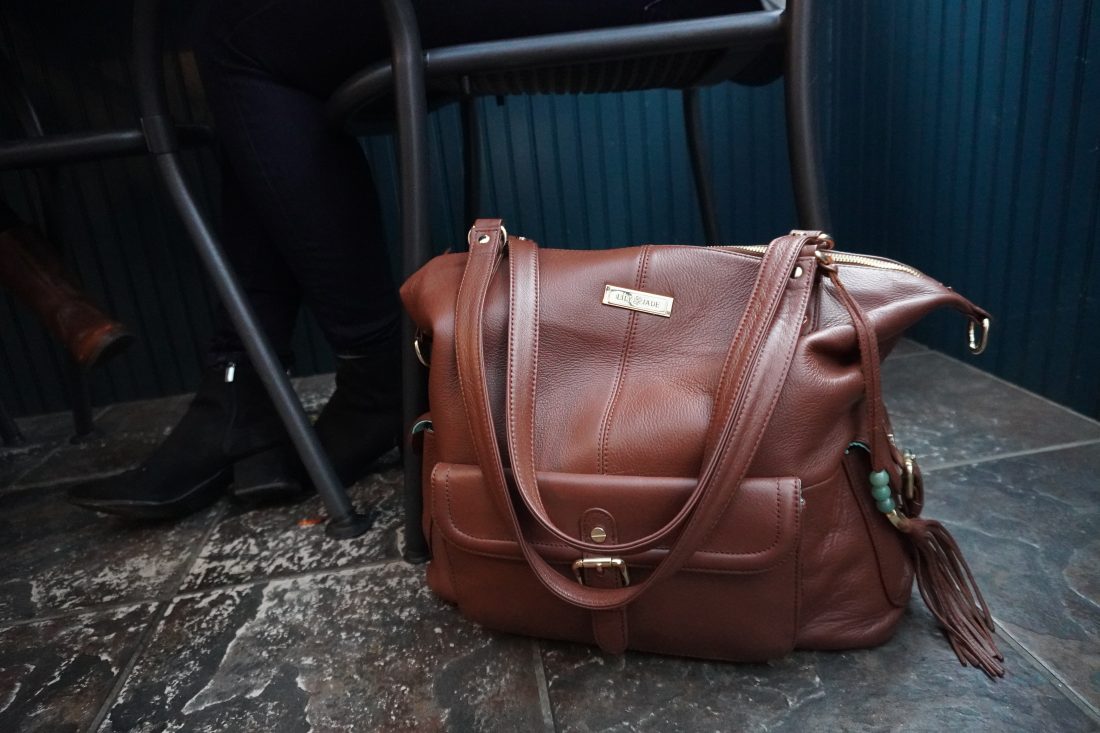 Lily Jade Meggan Diaper Bag
Would you believe me if I told you this beautifully massive bag was a diaper bag? Well, it is! This is the Lily Jade Meggan diaper bag, and while it's a more expensive diaper bag, I think it's worth every penny. Back when Evelyn was still an infant, I went through diaper bags like crazy. I stuck to the cheaper bags, but they would tear, be too small, they were difficult to carry while simultaneously carrying her – you get the idea. Eventually, I just decided to switch back to a regular purse, and once she was potty trained, I really just had to keep some snacks in there, so it worked out just fine. However, when Charlie was a newborn, I knew that I was going to have to find something a little different to fit our current lifestyle.
While Evelyn doesn't need me to carry much for her anymore (she prefers to carry her own backpack), life has still gotten busier. We're involved in ECFE classes, I'm on our local MOPs leadership team, the secretary of our local historical society, and we have to carry everything Charlie might need at all times, because we never really know how long we'll be out. It's a blast, but we need something that's going to be durable and large enough to carry everything.
The Meggan is the largest diaper bag that Lily Jade carries at 14.5″ by 16.5″, and for us, this is the perfect size. I can fit plenty of diapers and wipes, a change of clothing, plenty of snacks for the kids, and I can also carry everything I need for our other activities. It comes with a 12-pocket removable organizer, but I find that I can keep myself organized enough by just using the three exterior and three interior pockets on this bag. It also comes with a bright teal changing pad that matches the diaper bag's interior lining and I can tell you from experience washes up extremely well. I was actually quite worried that it would stain easily, but it's made many trips through the wash, and still looks new!
Obviously, I love the functionality of this bag, but I also love that it speaks to the part of my mama soul that still loves fashion and wants to look nice! It's made out of a super soft leather, so it has a nice slouch to it when you set it down, but also looks nice and polished when you carry it, and is available in four different color combinations: Camel/Silver, Black/Gold, Old English/Silver, and my personal favorite, Brandy/Gold. It can be worn multiple ways, including as a backpack, cross-body, or on your shoulder. I find that for the most part I carry it on my shoulder, though when my hands are particularly full, like on trips to the grocery store, the backpack option is amazing! Personally, I can't think of many situations where I would wear it as a cross-body, though perhaps if we were travelling and I wanted to keep a closer eye on it, it would also be a good option.
I've now been carrying it just over four months, and I'm still absolutely in love with it! It's such a well made, timeless design, that I can see myself continuing to use it with any potential future children, or even just as a purse when the kids don't need a "diaper bag" anymore. Regardless, if it's in your budget, I highly recommend this bag! If you would like to see this bag in action, and what I keep in it, make sure to check out the video I just posted, What's in My Lily Jade Diaper Bag?