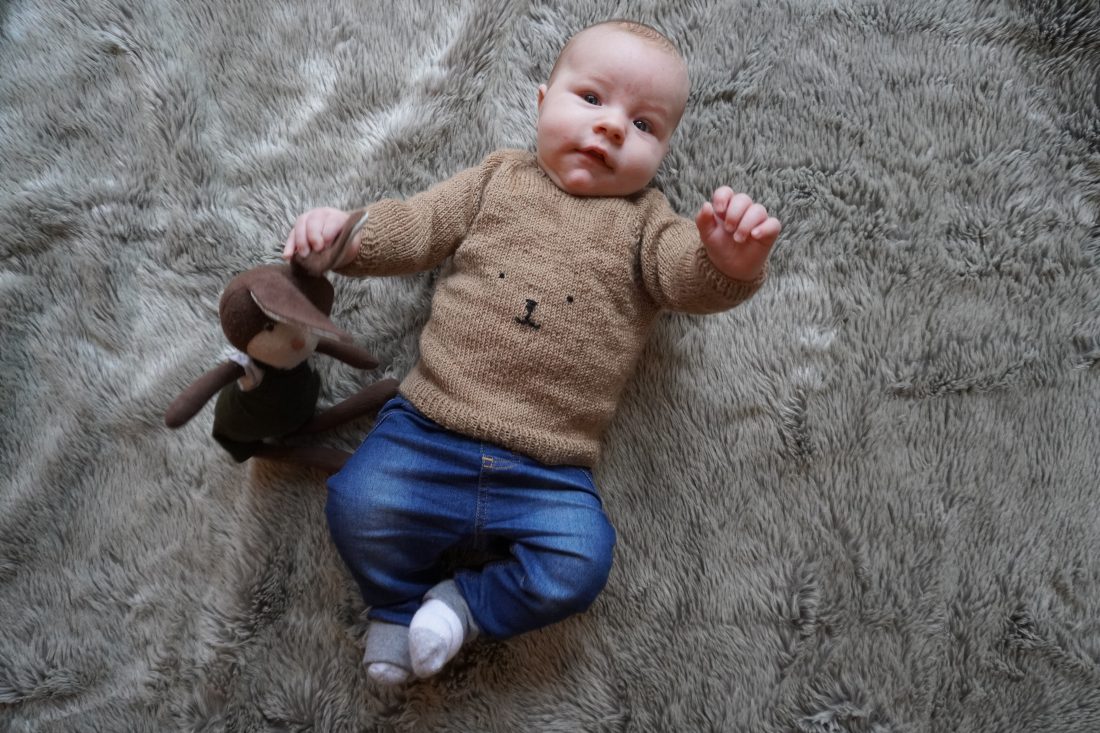 Teddy Bear Sweater by PetiteKnit
I recently posted about Evelyn's Christmas sweater, which will be Anker's Dress by PetiteKnit. In that post, I mentioned that I wanted to make up the Teddy Bear sweater for my son, Charlie, which was also by PetiteKnit. I was a little worried that I would run out of time for it to be his Christmas sweater, but lo and behold, I finished it with about two weeks to spare! I love how simple and innocent this little sweater is, and although the embroidery is minimal, you can still easily tell that it's a teddy bear's face! Embroidery is not something that I'm very comfortable with, and mine definitely could have been better, but I'm satisfied with how it turned out, and the instructions for it were very clear. That's something I really like about PetiteKnit's patterns, and I will likely mention it every time I post one of their patterns: they're so easy to understand!
This sweater is made out of Cascade Heritage in the colorway Camel. It is worked from the top down with a seamless, raglan construction. I used a German Twisted Cast On, which is a happy medium between cast on methods with little to no stretch and the super stretchy cast on methods. It also has a neat looking edge, which matches the traditional ribbed cast off method I used for the cuffs and bottom hem. I decided to make the 6-9 month version on US 4 needles, and it will be the perfect size for him to wear at Christmas, but because Charlie is growing so quickly, my guess is that it won't last much longer than that! It took less than a week to make up, though, so I may just get another on the needles right away, and just make the next size up! I decided to use the smaller needles because the yarn I used was a fingering weight rather than the DK the pattern asked for, but the fabric looked to loose on the larger needles.
I think that Charlie will mostly wear this sweater pretty simply, paired with jeans over a white onesie, but I think it's also a very nice gender neutral piece. I could see a little girl wearing this paired with jeans, black leggings, or even a tulle skirt with some tights. There are probably many other ways to wear it as well, but those are just the ones I can think of off the top of my head. Speaking of which, Evelyn has already asked for her own Teddy Bear sweater, so maybe I'll have to add that to my list, too!
As for now, I'm honestly not sure what I should work on next. I have a sweater for myself that's been in hibernation for a little while, and I could work on that, but I also feel like I should maybe work on something for Joe, especially given that it's Christmas. I've been eyeing the Slade sweater by Michele Wang, but I'm not sure. What do you think? Should I start that, or is it okay to do some selfish knitting?